Alayne Martell's Hall of Fame Induction Ceremony
12/02/2021
Alayne Martell's Hall of Fame Induction Ceremony will take place this Saturday, December 4th at 7.30pm on the ice of the UNIplex – Surface UNI during the Waterloo Wildfire V Atlantic Attack ringette match in Dieppe, New Brunswick.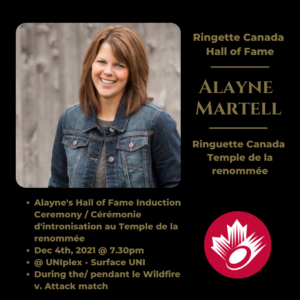 There will be a short video tribute that will be shared at the time of the presentation and Ringette Canada will also share the video, as well as photos from the ceremony, on our social media channels.
We are honoured to welcome Alayne's family and friends who are able to be with us this weekend.