High Performance Challenge Cups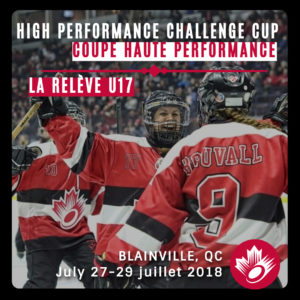 For information on the July 27-29, 2018 event, please click here.
High Performance Challenge Cups will be 3-day events hosted with the intention of bringing in the top Senior National Team prospects together to train, compete and learn about Ringette Canada's HP programs and philosophies.
Ringette Canada's HP Challenge Cups shall provide our High Performance athlete pool with:
A short-term competition and the opportunity to train with and compete against the best in the country

Experiential learning through game play

An opportunity to learn and develop HP Program tactics and strategies

An opportunity to further assess athletes we've targeted for the national team

A clear picture of the expectations of a national team athlete

An opportunity for prospects to interact with current National Team athletes

An opportunity to interact with National Team Coaching Staff and Integrated Support Team (IST)
The goal is to increase the number of High Performance athletes involved within Canada's National Team Program. This will also serve as an opportunity for prospects to understand the requirements and the lifestyle they can expect should they wish to pursuit the HP pathway as an athlete.
This 3-day event will also include coaching and officiating development all while remaining athlete centered to provide these athletes with a once in a lifetime experience.
The cost to attend the event will be $500 per athlete and will include travel, accommodation (4 per room for out of town athletes) and some meals.
For the 2019 National Team cycle, Ringette Canada is expected to host 3-4 Challenge Cups leading up to the 2019 World Ringette Championships.
Challenge Cup #1 – Blainville, QC – July 27-29th, 2018 .    
*Athlete invitations to be sent out in early May 2018.
Challenge Cup #2 – West Canada – November 2018 TBC
Challenge Cup #3 – May 2019 TBC
Challenge Cup #4 – if needed – in conjunction with training camp
All National Ringette League athletes and NRL team leaders have been notified of the Challenge Cup process for the July 2019 event by email on April 19th, 2018.
Self ID process is available:
Athletes who wish to declare their  interest to participate in the Challenge Cup events please complete the following form: https://goo.gl/forms/VlRU1DsnqV2SS7U22
*Registration by an athlete does not guarantee an invitation and similarly coaches are not limited by the list of athletes who have completed this form.
While participation in the Challenge Cups is not mandatory for eligibility for selection to Team Canada, these events are highly valued by Team Canada staff both as important scouting and evaluation opportunities, critical training opportunities for athletes to gain valuable game experience in a highly competitive environment, as well as opportunities for eventual Team Canada members to gel as lines and become familiar with various Team Canada systems.
Coach Development Opportunity Information
Official Development Opportunity Information