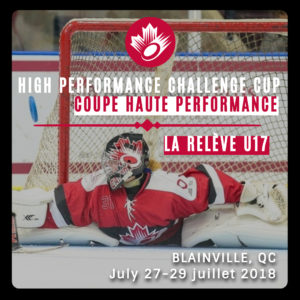 For information on the July 27-29, 2018 event, please click here.
La Relève 2018 – U17 National Development Program
Purpose
Ringette Canada's new version of its La Relève event will serve as an entry point into the High Performance pathway for athletes, coaches and officials. This annual event will allow graduating U16AA athletes the opportunity to take part in a High Performance environment which will include practice sessions, games, classroom sessions and fitness testing.
The goal is to introduce next generation High Performance athletes to the requirements and the lifestyle they can expect should they wish to pursuit the HP pathway as an athlete.
This 3-day event will also include coaching and officiating development all while remaining athlete centered to provide these athletes with a once in a lifetime experience. 
La Relève 2018 will serve as a pilot event, therefore the format, criteria and process will be formalized for the 2019 event and beyond.
Official Development Initiative
---
Format – 2018 La Relève
Four rosters will go head to head in round-robin play (three games)
Each roster will be given two 75-minute practice sessions
Each athlete will take part in fitness testing
Event will run from 9 am on Friday and conclude by 6pm on Sunday.

---
Participant selection
For La Relève 2018, athletes will be selected based on the following provincial allocation:
| | |
| --- | --- |
| 2018 | Total Athletes |
| B.C. | 4 |
| Alberta | 15 |
| Saskatchewan | 3 |
| Manitoba | 7 |
| Ontario | 10 |
| Québec | 8 |
| N.B. | 3 |
| N.S. | 2 |
| P.E.I. | 2 |
These numbers were based on the total number of U16 and U19 registered athletes by province in addition to number of teams submitted to participate in the 2018 CRC.
In the event that the number of allocated spots exceeds the number of eligible athletes that have self-identified from a province, these spots shall be allocated by the National Team staff at their discretion to an athlete from another province. These additional athletes do not count in the percentage totals outlined in the representation requirements.
The following minimum number of athletes shall be invited by position for the 2018 event up to a maximum of 58 athletes:
16 Forwards
8 Centers
16 Defense
5 Goalies
---
Selection criteria
For La Relève 2018 athletes shall be selected based on a combination of coach recommendations and scouting reports from the 2018 Canadian Ringette Championships.
For future events, selection shall be based on a full season of scouting, the Canadian Ringette Championships and coach recommendations.
---
Registration
General registration ensures that the athlete's name will be submitted for consideration to receive an invitation to La Relève.
Registration process is open to AA athletes born in 2002.
Only athletes who have completed the self-identification process will be considered for invitation to La Relève.
Athlete Identification process – 2018 La Relève (Pilot event)
For this pilot event the process will be as follows:
Additionally, athlete that did not compete at the 2018 CRC must ensure that a coach completes the coach recommendation and nomination form.
Athlete registration: Click Here
Coach nomination: Click Here
Registration for this event closes on May 21st, 2018.
Invitations shall be sent to athletes by email on Wednesday May 25th.
---
Team size
4 rosters of 12-15 skaters will compete in the event.
Up to 6 goalies will be invited to the event and will rotate amongst the teams to ensure maximum exposure and development.
---
Eligibility criteria
To be eligible for La Relève 2018, a female athlete:
Must be born in 2002;

Must have played on a AA team for the 2017-19 season;

Must be a member in good standing with her club association and an athlete in good standing with Ringette Canada; and

Must be registered with, or certified by, Ringette Canada; and

Must be eligible to represent Canada in World Championship.

This requires that an athlete be a citizen of Canada
---
Event Date
La Relève 2018 will take place in Blainville, QC on July 27th to 29th, 2018

Aréna de Blainville,

1009 MAIRIE RUE, Blainville, QC J7C 4H4

Event Starts 9 am July 27th

Event ends 6 pm July 29th
---
Costs
The costs to attend this event will be $500 per athlete.
** Travel and accommodation will be the responsibility of the individual athlete for the duration of the event.
*** Snacks shall be provided for the athletes while on site.
Preferred accommodation locations shall be shared with the invitation.