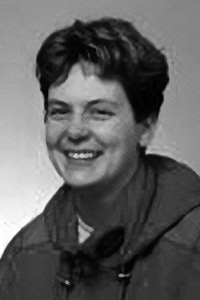 Ottawa's Lyndsay Wheelans was inducted into the Hall of Fame for her achievements in the area of coaching.
Wheelans, who was born in Calgary, raised in Edmonton and now lives in Ottawa, Ontario, was a player on the only team to ever win two consecutive world ringette championships in 1990 and 1992, head coach for Team Canada's gold medal win in 1996 and assistant coach when Team Canada won silver in both 2000 and 2004. Wheelans also brought the Finnish National Team to gold as head coach during the 1998 Summit Series.
Lyndsay been named Head Coach of Team Canada for the 2007 World Championships in Canada. She has been playing ringette for over 25 years and has coached at both the national and international level since 1988. She has also held the position of technical director for Ringette Canada from 1998 to 2001 and has been involved with Ringette Canada's coaching committee.
Birthplace: Calgary, Alberta
Residence: Ottawa, Ontario
Ringette Playing Career:
    Alberta (Calgary) Dinosaurs – Gold at 1994, 1995 and 1996 CRC
    Team Canada – Bronze at 1994 World Ringette Championships
    Team Canada – Gold at 1990 & 1992 World Ringette Championships
    Edmonton Ringette Club Belles/Debs (86-92)
    Edmonton house league and rep teams (76-85)
Coaching Career:
    Head Coach – Team Canada – for 2007 World Ringette Championships
    Asst Coach – Team Canada – Silver at 2004 World Ringette Championships
    Asst Coach – Team Canada – Silver at 2000 World Ringette Championships
    Ass't Coach – Gloucester Belle AA – Gold at 1999 Ontario Provincial Championships
    Head Coach – Team Finland, Summit Series (96-98)
    Head Coach – Helsinki Ringette Club (96-98)
    Head Coach – Team Canada – Gold at 1996 World Ringette Championships
    Ass't Coach – Team Alberta – Gold at 1995 Canada Winter Games
    Edmonton Ringette Club – Tweens, Juniors, Belles (87-96)
Coaching Education: Level 3 Certified in Ringette