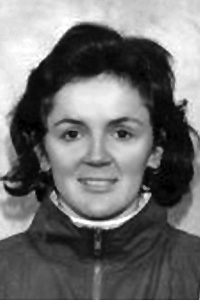 Deb Marek was inducted into the Hall of Fame for her achievements in the area of an athlete.
In 1999 and 2000, she was the head coach of Canada's National Ringette team. She was also an assistant with this program in 1994 and 1998. Deb holds a Level III coaching level.
Her playing experience is as advanced as her coaching experience. Deb was a goaltender with two world ringette championships and 8 Canadian National titles as a starting goaltender.
Birthplace: Winnipeg, Manitoba
Residence: Lethbridge, Alberta
Ringette Playing Career:

    Melrose Missiles / River East Falcons / Kilcona Flames (Manitoba) 1973-1988
    Calgary Deb/Intermediates (Alberta)1989-1994
    Team Canada 1992 – Gold at World Ringette Championships
    Team Canada 1990 – Gold at World Ringette Championships

Coaching Career:
    Head Coach – Team Canada – Silver at 2000 World Ringette Championships
    Ass't Coach Team Canada 1998 Summit Series
    Asst. Coach Team Canada – Gold at 1996 World Ringette Championships
    Ass't Coach Team Canada – Bronze at 1994 World Ringette Championships
    Head Coach Calgary Debs/Intermediates &endash; Gold at 1995, 1996 and 1997 CRC
    Various Petites/Tween/Junior Manitoba Teams (1980 to 1988)
Coaching Education: Level 3 Certified Coach in Ringette