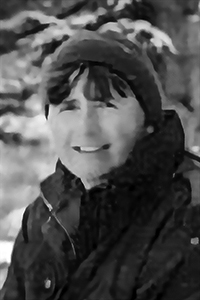 Linda (Tippin) Anderson was inducted into the Hall of Fame for her achievements in the area of a coach.
Anderson, who lived in Beaverlodge, Alberta, was killed in a motor vehicle accident on April 18, 2002. Her oldest son, Cam, accepted the award on her behalf at the closing banquet of the 2004 Canadian ringette championships held in Calgary, Alberta on April 3, 2004.
Anderson started her ringette career as a player in Kitchener (Ontario) and was a member of the gold medal winning team at the 1st Canadian ringette championships in 1979. She later played in Etobicoke (Ontario) and Calgary. Her coaching career started in the 1970's in Kitchener and she went on to coach and teach ringette through various ringette camps in the Haliburton area (Ontario), Calgary and the Okanagan (BC). She was also very involved in the development of a number of coaching resources that the sport continues to use today. Anderson taught school in Calgary, Quatsino (BC) and was teaching in a reservation school in Kelly Lake (BC) at the time of her death.
"It is through the commitment, hard work and dedication of many people that the sport of ringette has developed into one of the fastest sports on ice," said Bill Hubbs, Executive Director of Ringette Canada. "Linda Anderson's contributions to the sport have been both influential and noteworthy and it is with great pleasure that we are able to honor Linda's memory by recognizing her outstanding efforts with this Hall of Fame induction."