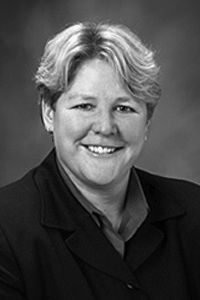 Lorrie Horne grew up on a farm near Olds, Alberta and certainly knows the game of ringette. She played and coached the game for 23 years including two years in the Finnish National League.
Lorrie was the head coach for Team Canada 2002, which brought home the gold for the first time since 1996. At the 2004 World Championship event, Team Canada brought home silver under her leadership, and in 2000 she was the head coach for Team USA, winning bronze.
Lorrie is regarded as one of the top women's coaches in the nation and she has made an outstanding contribution to the development of athletes at all levels of ringette in Canada.
An exceptional role model to her athletes, Lorrie has earned respect for her technical knowledge of the game and her calm approach to coaching. Lorrie currently lives in Sherwood Park, Alberta.