2023 & 2024 Canadian Ringette Championships set for Regina & Dieppe
OTTAWA, ON (May 2, 2022) – Ringette Canada is delighted to announce that the Regina Ringette Association, will host the next Canadian Ringette Championships (CRC) in 2023.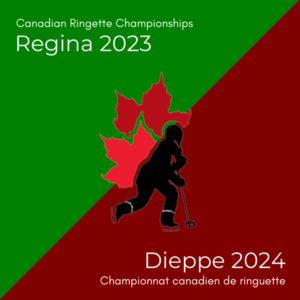 "We are delighted to make this announcement," said Frances Losier, High Performance Director of Ringette Canada. "Having the Canadian Ringette Championships confirmed for Regina next April and for Dieppe the following year is a welcome reminder that we are coming strongly through the pandemic. We are looking forward to working with these volunteer groups to host first class events for our athletes, coaches, officials and fans. This will be an opportunity to celebrate our sport and for our community to come together again."
The 7-day event will take place from April 9-15th, 2023, and will crown national champions in U16, U19 and National Ringette League divisions.
 "The Regina Ringette Association is thrilled that Regina has been chosen to host the 2023 Canadian Ringette Championships," said Jason Hoffart, president of the Regina Ringette Association.  "We look forward to welcoming these amazing athletes, coaches, and officials to our city.  We know the Regina ringette community will show all of Canada the passion and dedication we have for the game we all love."
Ringette New Brunswick, in partnership with the Dieppe Ringette Association, and the city of Dieppe has been successful in its bid to host the 2024 Canadian Ringette Championships.
The national event will take place from April 7th – April 13th, 2024. New Brunswick will have a team competing in each category. With 63% of the Ringette community within 30-minute drive of the host city Dieppe, it gives the province an opportunity to showcase this great sport to a large demographic.
Vicky Deveau, the president of the Dieppe Ringette Association said, "We are beyond excited in making this happen in our community. To host a Canadian Championship is a big deal. It's nice to get the support of our community and local governments. We will work closely with these partners to make this event is one to remember."
Marc Gautreau, the President of the board for Ringette New Brunswick says: "I'm thrilled and excited to be bringing back this National Championship to New Brunswick. It's been a long 11 years since we last hosted in Fredericton in 2013. I'm humbled by the amazing support from our communities, our ringette associations, and our provincial and federal governments. The 2024 Canadian Ringette Championships will be a truly amazing experience for all athletes, coaches, officials, volunteers, and fans from across Canada."
If you are interested in volunteering, or a business wanting to become a part of one, or both, of these great events, please reach out directly to the proper host committees.
Regina 2023 – 2023crc@gmail.com
Dieppe 2024 – 2024crc@gmail.com
To learn more about this longstanding national event, visit:
https://www.ringette.ca/events/canadian-ringette-championships/