Canadian Ringette Championships – Day 1
Calgary, Alberta – April 4, 2022 – Day one of the Canadian Ringette Championships has drawn to a close.  Wins, losses, fierce battles, new friendships, and some very exciting ringette.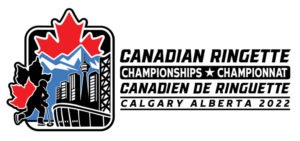 As part of Canadian Ringette Championships, the National Ringette League (NRL) today announced the nominees for its annual awards program. The awards program recognizes the performance of NRL athletes during regular season play with trophies for Rookie of the Year, Most Valuable Player, Top Forward, Top Centre, Top Defense, and Top Goalkeeper. These awards, along with awards for Coaching Staff of the Year, NRL Top Scorer and NRL Scoring Champion will be announced on April 9, 2022. You can find the full list of nominees here: https://www.ringette.ca/national-ringette-league-announces-annual-award-finalists/
On the ice today in NRL play, Calgary Rath beat the Gatineau Fusion 5-3, while Saskatchewan Heat downed Rive-Sud Revolution 6-5 and Manitoba Herd won 6-4 over the Waterloo Wildfire. The Cambridge Turbos beat Edmonton Black Gold Rush 5 -3. Atlantic Attack took a 9-5 win over the Nepean Ravens. And in our last NRL match-up of the day Edmonton WAM! won a tight match against the Montreal Mission 4-3.
After round one play in the U16 category, Team Alberta, Team Ontario & Calgary SURGE sit atop the leader boards of their respective pools. With Sage Snethun of the Calgary Surge racking up 9 points on day 1 with 3 goals and 6 assists. Goaltender Annabelle Sylvertre from Rive Sud leads the teams with a save percentage of. 0.957.
In the U19 division, the 3 pools are topped by Equipe Quebec, Team New Brunswick and Waterloo. Team Alberta player Regan Meier scored a massive 6 goals and 3 assists to put her at the front of the leader board for the U19s. While goaltender Rachel McKerracher from Team Alberta finishes day 1 as the top shot-stopper with a save percentage of 0.958.
We will be sending out daily reports which will be distributed through the Ringette Canada mailing list. If you are not already on the mailing list, please visit www.ringette.ca and add your information to the 'subscribe to our mailing list' section on the bottom of the main page. You will receive an email confirming your subscription and you are able to unsubscribe at any time through a link included in every mailing.
You can watch the Canadian Ringette Championships on the Ringette Canada YouTube channel; youtube.com/c/RingetteCanadaRinguetteCanada or on channel 1999 on TELUS' Optik TV Network in British Columbia and Alberta.
For more information on the event, including links to rosters, schedules, standings and stats can be found at  www.nationalringetteleague.ca
Competition continues Tuesday, April 5 at 9:00 a.m. (MDT).