Canadian Ringette Championships – Day 2
Calgary, Alberta – April 5, 2022 – The action and excitement continued on day two of the Canadian Ringette Championships in Calgary, Alberta. It was fast and furious on the ice as all forty-eight teams stepped up their game to fight their way into the second round.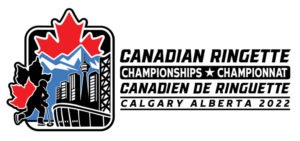 The first NRL match of the day came this morning at Winsport Arena and saw the Nepean Ravens topple the Montreal Mission 8-6. While hometown favourites, Calgary Rath defeated the Manitoba Herd 7-1.  There was a tough battle between the 2 giants from Edmonton, but in the end, the Edmonton WAM! topped the Edmonton Black Gold Rush 5-4.  The Cambridge Turbos posted a 12-3 win over the Atlantic Attack. While the Rive-Sud Révolution beat the Waterloo Wildfire by a score of 6-3.  And finally, the Gatineau Fusion brought the NRL action to a close with a 7-2 win over the Saskatchewan Heat.
In the final day of round one play in the U16 category, team Alberta continued their undefeated run and continues to sit atop pool A. Rive-Sud is now leading the way in pool B. While team New Brunswick also remain undefeated and lead the way in pool C. Morgan Forrest from Team Ontario has moved to the top of the leader board with an extraordinary 15 points scored over 4 games. Goaltender Addison Hough from Team Alberta has already stopped an impressive 74 shots and leads the teams with a save percentage of 0.914.
In the U19 division, the Calgary Raid, St Albert Mission, and Team Alberta sit atop their respective pools. Team Alberta player Erin Ung has edged her way to the front of the leader board for the U19s with 14 points. While goaltender Taryn Elvey from the Calgary Raid, even with a smaller number of minutes played, finishes the day as the top shot-stopper with a save percentage of 1.
We will be sending out daily reports which will be distributed through the Ringette Canada mailing list. If you are not already on the mailing list, please visit www.ringette.ca and add your information to the 'subscribe to our mailing list' section on the bottom of the main page. You will receive an email confirming your subscription and you are able to unsubscribe at any time through a link included in every mailing.
You can watch the Canadian Ringette Championships on the Ringette Canada YouTube channel; youtube.com/c/RingetteCanadaRinguetteCanada or on channel 1999 on TELUS' Optik TV Network in British Columbia and Alberta.
For more information on the event, including links to rosters, schedules, standings and stats can be found at  www.nationalringetteleague.ca
Competition continues Wednesday, April 6 at 8.15 a.m. (MDT).