Canadian Ringette Championships – Day 4
Calgary, Alberta – April 7, 2022 – U16 and U19 semi-final places have been decided and parental bragging rights are on the line as we close out day 4 of the Canadian Ringette Championships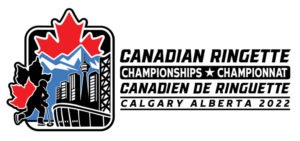 Ringette Canada's Senior National team coach Lorrie Horne and Junior National Team Coach Mark Beal's daughters, Kate Rogers and Taylor Beal are going head-to-head tomorrow in the first U16 championship semi-final. When Sherwood Park playoff against Team New Brunswick tomorrow at 4pm, parental bragging rights will hang in the balance.
There was plenty of action in the U16 division, eight games remaining, and a final four to be decided.  After an intense day of play, the semi-finals places are now set. Team New Brunswick, Sherwood Park Power, Team Alberta and Calgary SURGE will be moving forward and will play their semi-final matches tomorrow afternoon. Although her team has now been eliminated, Morgan Forrest from Team Ontario is still sitting on top of the leader board with 24 points. While goalkeeper Noémie Morin from Team New Brunswick leads with a save percentage of 0.958.
Another full day for the U19 division to decide their semi-finalists.  Eight very exciting games took place today and moving forward, Team Alberta will face off against St. Albert Mission at 5.30pm, while the Calgary Raid will play Sherwood Park at 5.45. Mia Hemstreet of the Calgary Raid has now moved to the top of the leader board with 18 points and Taryn Elvey continues her rein as the top net-minder with a save percentage of 1.
In the National Ringette League division, the Cambridge Turbos were first up this morning beating Nepean Ravens 12-5 in the opening game of the day. The Manitoba Herd pulled out a 6- 5 win over the Gatineau Fusion. The Edmonton WAM! beat the Atlantic Attack 6-5 and the Rive-Sud Révolution were downed 7-2 by Calgary RATH. It was a high scoring affair when the Montréal Mission beat the Edmonton Black Gold Rush 9 -7.  And in the final match of round one, the Waterloo Wildfire downed the Saskatchewan Heat 11-6.  The Championship round of the NRL division started this evening with the Manitoba Herd beating out the Nepean Ravens 8-3. The Atlantic Attack moved on from their morning defeat with a 9-1 win over the Saskatchewan Heat.  The Waterloo Wildfire took their second win of the day beating the Edmonton Black Gold Rush 11-6 and our final matchup saw the Gatineau Fusion won 8-5 over the Montréal Mission.
You can watch the Canadian Ringette Championships on the Ringette Canada YouTube channel; youtube.com/c/RingetteCanadaRinguetteCanada or on channel 1999 on TELUS' Optik TV Network in British Columbia and Alberta.
For more information on the event, including links to rosters, schedules, standings and stats can be found at  www.nationalringetteleague.ca
Competition continues Friday, April 8 at 9.00 a.m. (MDT).