Canadian Sport Policy Renewal – Make sure your voice is heard
The Canadian Sport Policy is set to be renewed in February 2023. The renewed sport policy will help identify Canadian sport priorities. It will also guide how federal, provincial and territorial governments advance sport for the next 10 years (2023 to 2033). Through this survey, you'll help renew the Canadian Sport Policy.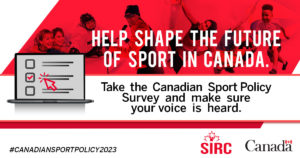 The Canadian Sport Policy helps to guide policy, program and funding decisions. To make sure the new policy reflects what Canadians want for sport, it's important we hear from valued, diverse stakeholders such as you, from across the country.
Your perspective is important. If you're interested in policy development, your insights can help us to set a renewed course for sport in Canada.
To find background information about the Canadian Sport Policy, visit the Sport Information Resource Centre (SIRC) website. The background information includes the existing policy, a summary evaluation of the existing policy, and an environmental scan.
This survey will take you approximately 15 minutes to finish.
*This survey is also available in Inuktitut, please click here.
*ᑕᒪᓐᓇ ᑕᑕᑎᒐᒃᓴᖅ ᐊᑐᐃᓐᓇᐅᔪᖅ ᐃᓄᒃᑎᑐᑦ, ᐅᓇ ᓇᕿᓪᓗᒍ.
**This survey is also available in Inuinnaqtun; please email SRinfo@gov.nu.ca to receive a copy.
**Una ihivriudjutikhaq pigiaqaqtuq Inuinnaqtuuqhimayuq; titirarlugit qaritaujakkut SRinfo@gov.nu.ca piyaangat aadjiliuqhimayumik.