Local ringette association president honoured with community builder award
It all started when her daughter began playing ringette many years ago.
Phyllis Bergmans, one of the recipients of the 2022 United Way East Ontario Community Builder Award, began her involvement in youth sport by volunteering as an assistant coach for her daughter's ringette team.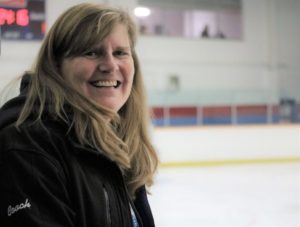 As the years went on, Bergmans went from assistant coach, to head coach, to league convener, to vice president, and now finally, president of the City of Ottawa Ringette Association (CORA).
Bergmans was presented with the community award because of her dedication to promoting youth sport, especially for young girls. She joined The Sam Laprade Show on March 30 to discuss the honour.
"If anyone's listening who knows me, the one thing they know about me is that I will do everything and anything to keep girls on the ice in our sport," said Bergmans.
With Bergmans at the helm, CORA has been able to develop two different programs to give children with barriers a chance to participate as well.
The first program, Ringette for All, was designed four years ago for children with special abilities, both physical and cognitive, who might not be able to play on a typical ringette team.
The most recent program created by CORA, Breaking Down Barriers, was developed for children who face all types of social barriers like financial, language, transportational and cultural barriers. This program was created about a year ago and is free of cost.
CORA is a volunteer-run not-for-profit organization that promotes inclusivity and offers ringette programs for girls ages four to 19.
"I can't give enough credit to the volunteers that we have at CORA," added Bergmans. "I certainly am not doing any of this single-handedly."
The award winner also highlighted the impact older players have on younger girls in the organization. A number of individuals who were once members of the association have come back to volunteer, coach, and mentor the next generation.
Bergmans believes they have created a great community that helps build confidence, teamwork and a number of other skills in sport, and beyond.
– Danielle Bain – City News