Prosthetic glove, determination help Alberta teen excel as ringette goalie
Callie Bizuk, a 14-year-old ringette goalie born without part of her right arm, is proving to be quite the athlete as she finds unique ways to excel at the sport.
Original Story by Bailey Nitti for Edmonton City News.
Posted Dec 18, 2022, 5:58PM MST – https://edmonton.citynews.ca/2022/12/18/prosthetic-glove-alberta-teen-ringette-goalie/ – please click the link for the original article and video of Callie.
Growing up, Callie Bizuk was often told what she couldn't do.
The now 14-year-old from Alberta, who was born missing her right arm below the elbow, always wanted to play ringette.
Callie started playing the sport when she was four years old, using a device that helped her hold on to her ringette stick. It was a struggle at first, but she eventually got the hang of it.
At age nine she decided she wanted to try playing in net. That's when the naysayers tried to dissuade her from pursuing her goal.
"There were a couple of coaches who told me, 'no you can't play goalie, you have one hand, you won't be good, you can't do this,'" recounted Callie. "And that was difficult growing up."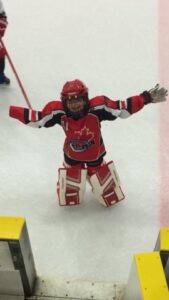 But that didn't stop her. If anything, she says, it fuelled her.
After being told what she couldn't do – or shouldn't try to do – it became Callie's mission to prove she was capable of playing the position.
"Actually, I can be a goalie. And I will be a goalie," was how Callie responded to the adversity.
Meeting ringette goalie Keely Brown
To kickstart her mission of becoming a competitive athlete, Callie knew she needed to find a prosthetic that would help her save shots.
That's when she met former Team Canada ringette goalie Keely Brown, the creator of "The Keely" ringette glove for goalies.
Together, they took that glove to a prosthetist to build a custom piece of equipment that would fit Callie's arm.
"This is the neat part about the ringette community is that we really want people to play and enjoy it and to compete at their highest level," said Brown. "And it's neat that Callie was able to find a way to be better as a goalie in our sport."
It turns out Callie's new prosthetic glove was a total game changer, and the turning point in helping her excel at the sport.
"The first time stepping onto the ice with this prosthetic was insane, I was like, 'woah it actually saved the shot,'" said the Alberta teen. "I kept looking at it and my arm and I said, 'yep, I can do this.'"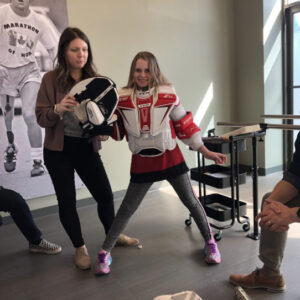 'What she wants, she'll get'
Fast forward a few years: Callie now plays on a U16 A team in Sherwood Park – a competitive league.
And she has supportive coaches and teammates.
"She's got a personality where she pushes and pushes and what she wants, she'll get," said Shelley Derewianka, the head coach of the Sherwood Park Strike. "She wants to be at the next level and you can tell by how she plays."
"She's worked so hard to get where she is and it makes you think if I really want to get somewhere that I can do it too. It's amazing she's been able to do that," added teammate Natalie Enders.
Growing up Callie also found unique ways to put her equipment on and take it off, rarely needing help from anyone.
"Everyone was tying their own skates and I couldn't and that affects me," she said. "I hate when I can't do something that someone else can."
Callie's goal is to play at the highest level of ringette possible and to inspire athletes who are different from the rest.
And just like a few years ago, she's not taking "no" for an answer.
"Having a limb difference has caused me to become resilient," she said. "And there's a lot of people who will say 'you can't do this' when actually you can."