Ringette Canada announces Hall of Fame inductions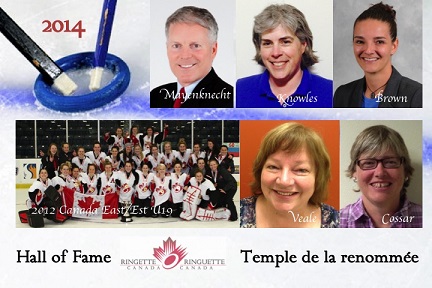 Ottawa, Ontario – September 9, 2014 – Ringette Canada today announced it has inducted five new members and one team into its Hall of Fame. Inductees include Tom Mayenknecht (Vancouver, BC) in the builder category; Laura Knowles (Ottawa, ON) in the official category; Beth Veale (Calgary, AB) in the coach category; Keely Brown (Edmonton, AB/Kitchener, ON) and Janice Cossar (Dartmouth, NS) in the athlete category; and the 2012 Canada East U19 team.
The Ringette Canada Hall of Fame recognizes outstanding contributions to the development of the sport of ringette and the outstanding achievements of ringette athletes, coaches, officials and administrators across Canada.
"Our sport is successful because of the hard work and dedication of many individuals across the country and this year's Hall of Fame inductees are no exception," said Daniel Dussault, Ringette Canada president. "From the 2012 Canada East U19 team to Tom in the builder category, Laura on the officiating front, Beth in the coaching category, and Keely and Janice as athletes, it gives me great pleasure to be able to recognize these well-deserving individuals with an induction into our Hall of Fame."
Tom Mayenknecht was involved in ringette as a coach and an administrator from 1978 to 1985 and he was instrumental in putting ringette on the 'communications map'. He held the position of Director of Public Relations for the Ontario Ringette Association from 1980 to 1982 and then with Ringette Canada from 1982 to 1985. He invested new energy in packaging Ringette Canada's goods and services in a way that enticed readers to explore, companies to invest and major media (print and TV) to cover. In 1982, he revamped the Ringette Review national newsletter and won the Doug Gilbert Media Medallion from the Sports Federation of Canada for best national federation magazine in 1984.
When asked about his involvement in ringette, Tom commented, "I'm very proud to have had the opportunity to contribute to the promotion and development of ringette at the local, provincial and national levels at a time when there was great growth for ringette and it went a long way towards establishing a new era for women's sport in Canada. I will always cherish the terrific working relationships and friendships that were created in all ten provinces and territories across the country."
Laura Knowles began in ringette as a player and started officiating in her early teens. Her officiating career spanned over thirty years during which she became Level 5 official. Laura has been very involved in the development of the rules of ringette, including the thirty-second shot clock and the "move it or lose it" rule, as well as the development of high performance officials.  She has been a master instructor since 1991 and has officiated and supervised at numerous provincial championships and has officiated, supervised and been the director of officials at the Canadian Ringette Championships, Canada Winter Games and World Ringette Championship. She has held the positions of director of officials and technical director with BC Ringette; director of officials with Ringette Nova Scotia; VP of technical for Ringette Canada; the eastern region rep for Ontario Ringette's officiating committee; and she has also been both a member and the chair of Ringette Canada's officiating committee.
When asked what the induction meant to her, Laura commented, "Being inducted into the Ringette Canada Hall of Fame is truly an honor and I am thrilled to be inducted alongside some great people that have done so much for our sport. To join the ranks of the other officials in the Hall of Fame, many with whom I officiated with over the years, is amazing and humbling."
Beth Veale has been a valuable contributor to the growth of ringette for many years as a coach, player, instructor, coach developer and author. She wrote many resources in the late 80's for the coaching and athlete committees and she also helped write the Community Sport Initiation Course, the Competition Introduction 1 Course and the Competition Development Course. In 1996, Beth achieved her Level 3 technical course and also completed her Level 3 coaching certification. She has been a very effective NCCP Course Conductor and NCCP Learning Facilitator for the last thirty years, training coaches to be the best they can be. She has been a Master Learning Facilitator for the past six years and is a member of the Coach Developer Team that was established in 2012. For the past ten years, Beth has worked with AA teams from Calgary and her teams have represented Alberta at the Canadian Ringette Championships for many of those years. Beth provides leadership, stability, ringette knowledge and skill when working with athletes and as an educator she is always looking for better ways to improve the sport.
"I believe the strength of this remarkable sport is in the competence, dedication and integrity of its people, especially the coaches who are the face of ringette for the players. I have experienced this first hand, having played for and coached with many amazing people who have motivated their players to become successful young adults far beyond the world of ringette. My mission is to ensure that our coaching programs continue to develop the very best coaches in the world," commented Veale. "I am incredibly honoured and grateful to be recognized by Ringette Canada for my efforts and to be included in this prestigious group, many whom I have had the privilege to work with and whom I have greatly admired, including my ringette idols, Linda Anderson (Tippin), and Phyllis Sadoway."
Keely Brown is a name synonymous with ringette goaltending. Keely grew up playing ringette in Kitchener, Waterloo and Sudbury before moving to Alberta where she played with the National Ringette League's Edmonton WAM! Keely participated in 19 Canadian Ringette Championships, winning nine gold and eight silver medals, and she was on the senior national team for 14 years and attended five world championships, winning one gold and four silver medals. Keely was the goalie coach Team Canada (senior) in 2013 and was the goalie coach for Team Canada U19 West in 2012. Keely runs her own company, 5-Count Ringette Goalie Instruction, along with Heather Konkin. 5-Count has 25 ringette goalie instructors and has run ringette goalie camps, clinics and ice times from BC to PEI, with the goal of providing top quality ringette goaltending instruction to ringette goalies all across Canada. She has also written a book titled "The Complete Guide to Ringette Goaltending."
"It is such an amazing honour to be included among the many great athletes in the Ringette Hall of Fame, especially so soon after my retirement from the senior national team," said Keely. "Ringette has always been a main passion and focus of mine – from the opportunities and experiences of travelling and competing across Canada and Europe, to the many friends I have made throughout my playing career. Ringette is such a fun, fast paced sport that is continually improving to make it even more exciting – truly a great sport to play and compete in."
Janice Cossar began playing ringette in Nova Scotia in 1974. Her playing career spanned 25 years and she represented Nova Scotia at the Canadian Ringette Championships over three decades (70's, 80's, and 90's). She was known nationally as a 'ringette superstar' and was one of the first trailblazers in the sport of ringette who made a national impression at every event she attended. Spectators and coaches from all provinces came to watch Nova Scotia games just to see Janice Cossar play and find a way to defend against this outstanding offensive player. Her name and achievements were consistently published in the "Ringette Review" and regularly announced at award ceremonies.
"I am humbled to think of all the amazing athletes, coaches, managers and executives I have been exposed to over the years and am proud to bring a part of them with me to the Hall of Fame," commented Janice. "Lessons I learned playing the sport of ringette have helped shape and mould the person I am today and I am so thankful for this tremendous honour."
The 2012 Canada East U19 team won gold in a 6-2 win over Finland at the 2012 U19 World Ringette Championship in London, Ontario. The team included the following athletes: Jessie Callander (Mississauga, ON), Danielle Duncan (Waterloo, ON), Robin Scott (Mitchell, ON), Josslyn Denstedt (St. Clements, ON), Jennifer Gabel (Nepean, ON), Samantha Nosal (St. Clements, ON), Kirsti Mason (Cole Harbour, NS), Leah Erwin (Courtice, ON), Sydney Granger (Dorchester, ON), Stacey Richards (Mississauga, ON), Emilie P. Bélanger (Montréal, QC), Paige Nosal (St. Clements, ON), Alexandra Lacharité (Sainte-Julie, QC), Abby Richardson (Guelph, ON), Jasmine LeBlanc (Dieppe, NB), Sue-Ellen McInnis (Charlottetown, PE), Maude Charbonneau (Sainte-Julie, QC), Myriam Lavergne (Gatineau, QC), Martine Caissie (Bouctouche, NB), Karly McMullen (Whitby, ON), Megan Gibson (Richmond Hill, ON), and Josie Scott (Mitchell, ON). Team staff included: head coach Sharolyn Wouters (Port Perry, ON), assistant coaches Jackie Gaudet (Cambridge, ON) and Stéphanie Séguin (Montréal, QC), goalie coach Meghan Pittaway (Cambridge, ON), athletic therapist Brigitte Roy (Ottawa, ON), mental trainer Alanna Veerman (Burlington, ON) and team leader Mary Dupuis (Whitby, ON).