Ringette Canada announces major officials attending national championships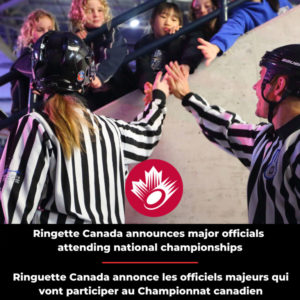 Ottawa, Ontario – March 23, 2022– The 2022 Canadian Ringette Championships will get underway in Calgary, Alberta on April 3rd and teams from across the country will compete for national titles in the U16 and U19 divisions, as well as the National Ringette League championship title. Ringette Canada today announced the major officials who have been selected to attend the national championships.
The officiating team at the event will consist of one director of major officials, six supervisors, 33 on-ice officials and 12 shot-clock operators. They include:
Director of Major Officials:
Chad Weatherall Sherwood Park AB
Official Supervisors:
Blair McGregor Regina SK
Iris Todd Edmonton AB
Janyce Gunn Oshawa ON
Lorie Grant Kitchener ON
Natalie Fortin Ottawa ON
Paul Shipman Winnipeg MB
On-Ice Officials:
Aaron Armstrong Tisdale SK
Alexander Hanes Bath ON
Amanda Pukalo Whitby ON
Angela Burger Calgary AB
Benoit Ducharme Montreal PQ
Brandon Miller Ottawa ON
Breanne MacInnis Stratford PEI
Brent Bunting Barrie ON
Chris Faulds Waterloo ON
Chris Feher Waterloo ON
Danielle Neumann Edmonton AB
David Jones Beaver Bank NS
David Singh St.Lazare PQ
Emmanuelle Bourbeau Gatineau PQ
Eric Bohemier Winnipeg MB
Evan Sharp Squamish BC
Geri-Louise Lamers Wasaga Beach ON
Jaimie Nelson High River AB
Karen Meek Bowmanville ON
Laura Hickling Courtice ON
Luc Melanson Dieppe NB
Luke Faulkner Fredericton NB
Marc St-Hilaire Notre-Dame-des-praries PQ
Marco Mallet Dieppe NB
Marren Garcia Surrey BC
Mario Périard Rockland ON
Marjorie Legros Ste-Julie PQ
Mathieu Leduc Gatineau PQ
Melanie Stewart Port Coquitlam BC
Robert Drury Whitby ON
Sylvie Dubois Sherwood Park AB
Tamara Hyska Squamish BC
Tracy Hill Pierrefonds PQ
Shot-clock operators:
Mike Murphy Fredericton NB
Amy Hanes Bath ON
Anne-Marie Turgeon Contrecoeur QC
Brenda King Dundurn SK
Conrad Weigerber Edmonton AB
David Saunders Charlottetown PE
Duane Miller Waterloo ON
Karen Freund Winnipeg MB
Kevin Braithwaite Langley BC
Nancy Desfonds Gatineau QC
Sam Cormier Riverview NB
Sharon Smit Abbotsford BC
The opening ceremony will be held on Sunday, April 3, games start Monday morning and finals will be held on Saturday, April 9. All-stars and the NRL Annual Awards will be announced at the closing award ceremony on Saturday night.
About Ringette
Ringette is a Canadian sport that was invented in 1963 in North Bay, Ontario by the late Sam Jacks. There are currently over 31,000 players on nearly 2,000 teams across Canada, with over 1,500 officials and nearly 8000 coaches. Internationally, it is played in more than a half a dozen other countries around the world. Ringette has been designated a Heritage Sport by Sport Canada and as part of the Sport for Life movement, ringette is well advanced at adapting Sport Canada's Long Term Athlete Development model. As a proud member of True Sport, Ringette Canada is committed to sport that is values-based and principle-driven. For more information, please refer to the Ringette Canada Web site at www.ringette.ca.