Ringette Canada bringing sport to more households through new partnership with TELUS
Week-long championships will be broadcast on Optik TV starting April 3, 2022 and feature over 865 athletes from across Canada
Ottawa – Today, Ringette Canada, the national governing body for the sport of ringette, is delighted to announce its new partnership with TELUS for the Canadian Ringette Championships taking place in Calgary, Alberta starting April 3, 2022. By leveraging TELUS' Optik TV network, viewers in British Columbia and Alberta will have unlimited and enhanced coverage of the week-long event, and be able to see all the action on the ice across 190 games, all while raising awareness of this growing sport.
The championship games take place from April 3 to April 9, 2022 and feature 48 teams, 190 games, 865 athletes from across Canada. While the event does determine the champions of the sport, it also provides athletes with the opportunity to compete at the elite level, increases visibility of the sport across the country, and encourages fair play and interprovincial goodwill.
Throughout the 2021-22 season, the National Ringette League has been live streaming on YouTube to allow fans to take part in the game, while remaining safe throughout COVID-19 restrictions. This addition of the championship games on Optik TV will allow more fans of the sport to catch their favourite teams take the ice.
"We knew in the current environment we needed to do more to allow people to watch the sport they love, while also remaining comfortable as pandemic restrictions evolve and lift," said Frances Losier, Director of High Performance at Ringette Canada. "Some people love coming to the arena, and when you are able, that is the ultimate way to watch the speed and excitement of ringette. However, without that, we wanted to find a way to ensure this amazing event can be shared with Canadians." 
"We look forward to what's to come in the future with this incredible partnership," said Natasha Johnston, Executive Director at Ringette Canada. "Having the backing of a communications technology company like TELUS, that wants to support the growth of the sport is incredible. We are a values-based organization and we share so many of these values with TELUS. We are looking forward to growing this collaboration in the future." 
"TELUS is committed to providing greater access to youth sports via Optik TV and our streaming capabilities," said Nancy Shaw, Director of Community Marketing at TELUS. "We couldn't be happier to kick off this special partnership with Ringette Canada by bringing the Canadian Ringette Championships to fans on Optik TV. With TELUS' support, even more Canadians now have access to this phenomenal sport and can cheer on their favourite players and teams from the comfort of their homes when they can't be at the arena." 
You can watch the Canadian Ringette Championships on the Ringette Canada YouTube channel; youtube.com/c/RingetteCanadaRinguetteCanada or on channel 1999 on TELUS' Optik TV Network in British Columbia and Alberta.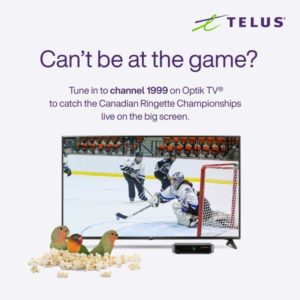 Company info: Ringette Canada is the national sport organization that governs, promotes, and leads the development of ringette.
Media contact information: Jenni Lloyd – Communications, Engagement and Marketing Director for Ringette Canada – jenni@ringette.ca