Team Canada coaches announced by Ringette Canada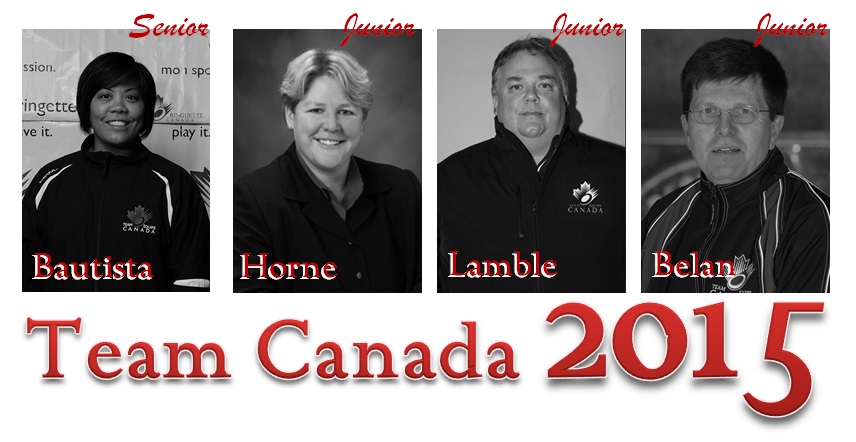 Ottawa, Ontario – August 12, 2014 – Ringette Canada today announced the selection of its Team Canada coaches for its 2015 national team program. Ottawa's Barb Bautista will lead the senior national team as head coach and Sherwood Park's Lorrie Horne will serve as head coach of the junior national team. Calgary's Chris Belan and Nepean's Bryson Lamble have been named assistant coaches for the junior national team and the remainder of the senior national team coaching staff will be announced in October.
The national teams will compete in the 2015 world ringette championships that will take place in Helsinki, Finland from December 28th, 2015 to January 4th, 2016.
Barb Bautista, who grew up in Ottawa and now lives in Calgary, is no stranger to the Team Canada bench. She began playing ringette when she was ten; has made four appearances on the Team Canada roster, winning one gold and three silver medals; and was an assistant coach for the team in 2013.
"I am extremely proud to continue with the national team program and honoured to be named the coach," said Bautista. "The pursuit of winning of another world championship title will be an exciting and challenging one."
Lorrie Horne has been a ringette coach for over 24 years and was inducted into the Ringette Canada Hall of Fame in 2008. Horne has coached in Canada and Finland, and was the head coach on the last Canadian senior national team to win gold at the 2002 world ringette championships.
"I am very excited to be returning to the national team program and working with a fantastic pool of people committed to rebuilding and ensuring the success of the program," said Horne. "I can't wait to start building a team with our country's finest ringette athletes."
Chris Belan has been a ringette coach for over 22 years, including coaching at the Canadian ringette championships, Canada Winter Games and the 2009 U19 world ringette championship. "I am excited about the prospect of working with the best ringette athletes in the country," said Belan. "I am totally committed to doing all I can to make them successful individuals as well as a successful team."
Bryson Lamble joins the junior national team with over 12 years of competitive coaching experience, including two appearances on the international stage – once as head coach of Team Russia at the 2012 world ringette championship and also as assistant coach of the Nepean Ravens who represented Canada at the 2013 event. Lamble has also made numerous national coaching appearances over the span of his coaching career.
"I am looking forward to working with Canada's best athletes, alongside the amazing staff that Ringette Canada has assembled for this program," said Lamble.
New to the national team program is the development of an approach where all systems, strategies and tactics that will form the base for all national team programs moving forward.
"In an effort to bring unity to the program and ensure improvement from year to year, we want to ensure we are offering an optimal training environment for our high performance athletes," said Frances Losier, Ringette Canada's Director of High Performance and Events. "This will translate into success in international competition for years to come."