The 2022 Canadian Ringette Championships officially open
The 2022 Canadian Ringette Championships have been a long time coming. Being able to host the CRCs in Calgary is a huge boost for so many ringette players, coaches and fans disappointed by the loss of both the 2020 and 2021 championships due to COVID-19. We are so looking forward to being back together again to celebrate our athletes, our sport and our community.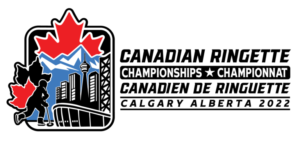 The event will be centered at Winsport and Seven Chiefs Sportsplex & Chief Jim Starlight Centre and will crown national champions in U16, U19 and National Ringette League divisions.  The on-ice action will start bright and early on Monday April 4th, and the gold medal finals and closing ceremony will be held on Saturday, April 9th.  All-stars and the NRL Annual Awards will be announced at the closing ceremony on Saturday night in Calgary.
All the information for the tournament can be accessed through our current National Ringette League site, www.nationalringetteleague.ca.  Within the system you can access information such as rosters, schedules, standings and stats for all divisions.
To assist you in following all the action in Calgary, we have developed a comprehensive outreach program. Here's what we have planned:
We will be posting photos daily on our Ringette Canada Flickr page. To view the pictures, click here: www.flickr.com/photos/ringettecanada/albums
We will be actively promoting the 2022 Canadian Ringette Championships on social media. To keep up to date on everything that will be happening, we encourage you to connect with Ringette Canada and the Canadian Ringette Championships:
Canadian Ringette Championships
Follow us on Instagram http://instagram.com/CRC_CCR
Follow us on Twitter http://twitter.com/CRC_CCR
Like our Facebook page https://www.facebook.com/CanadianRingetteChampionships
Ringette Canada
Follow us on Instagram http://instagram.com/ringettecanada1963
Follow us on Twitter http://twitter.com/ringettecanada
Like our Facebook page http://www.facebook.com/RingetteCanada
We will be sending out daily reports which will be distributed through the Ringette Canada mailing list. If you are not already on the mailing list, please visit www.ringette.ca and add your information to the 'subscribe to our mailing list' section on the bottom of the main page. You will receive an email confirming your subscription and you are able to unsubscribe at any time through a link included in every mailing.
You can watch the Canadian Ringette Championships on the Ringette Canada YouTube channel; youtube.com/c/RingetteCanadaRinguetteCanada or on channel 1999 on TELUS' Optik TV Network in British Columbia and Alberta.