The golden sticks are on their way to Calgary for the Canadian Ringette Championships
Being awarded a golden stick, means being crowned Champions. The golden sticks are a symbol, they are a pinnacle of achievement in our sport.
This year, we are delighted to announce that the Golden Sticks are being made by Tribe Ringette, especially for our championship event. Philippe Jeanneau, the owner of Tribe Ringette, is a mechanical engineer by trade, with a specialty in aeronautics and composite materials. For the past 18 years, Phillipe has worked within the world of sporting goods, developing a few patents to his name over the course of his career. Phillipe also has a history with the aviation industry involving composite materials and has participated in research work on composite materials with NASA.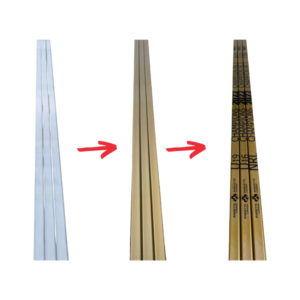 But despite his skills and experience, Phillipe is very adamant that Tribe ringette is so much more. 'This is not about me. It's about the players, it's about the Tribe.'
Tribe was created from an interest to offer ringette players the best possible equipment to support and amplify their natural abilities. Tribe had observed that ringette sticks were often made of dated materials or inadequate designs, and rather than helping the players, these sticks would hold back their full performance potential. So, Tribe went to work to create the best stick possible.
With a vast amount of experience behind them, the research and development team at Tribe had an excellent starting point.  So, when they decided to specialize in ringette, they did their research.  In 2019, they visited the Team Canada's World Championship training camp in Calgary. At camp, they were able to observe elite players and document their behaviours, abilities, and differences. From this visit, Tribe met 2 players that would help them shape the future of their product. Phillipe reflects, 'Dailyn and Jamie Bell were kind enough to agree to work with us on development. From our partnership with them, we were able to tune our sticks into what really matters to ringette players.'  Since then, the team of Tribe Pros has been growing, with currently 10 NRL players and 2 Elite Finland players, all of whom contribute to the design and development of the Tribe stick.
'From the start, the sticks have been designed and developed in Calgary. The inception of every product starts here.' Says Phillipe. 'Now with our NRL Pros, Finland Pros and a few players that are close friends of the company, development and validation is done globally, in Canada and in Europe.'
Tribe and the Tribe sticks are truly made with ringette players for ringette players. To find out more about Tribe, please visit their website, https://triberingette.com/