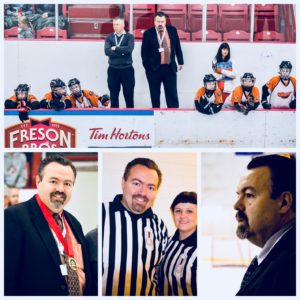 Ringette Canada extends its heartfelt condolences to the family and friends of Kevin Lee, who passed away on November 2, 2017. Kevin has been on the bench staff with the Cambridge Turbos for the past two seasons, leading the team to gold at the 2017 National Ringette League Championship this past April. He has also been a well respected official for more than 30 years, including several assignments at the Canadian Ringette Championships; the 2008 World Club Championship; and the 2010 World Ringette Championship.  Given his love and passion for the sport of ringette, the family has requested that donations in the memory of Kevin be made to Ringette Canada to support officiating development.
Donations can be accepted via PayPal (below) or via cheque: Ringette Canada, c/o House of Sport/Maison du Sport RA Centre 2451 promenade Riverside Drive Ottawa, ON K1H 7X7
A receipt will be issued to all donors.